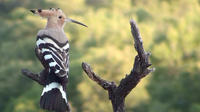 4-Ways Short Break Birding Tour in Catalonia. A wonderfully varied birdwatching experience based in Lleida, to the west of Barcelona. Enjoy 3 full days of professionally guided birding, venturing out in different directions to see birds of wetlands, drylands, rocky mountains, gallery woodland and rolling countryside. Consider the Train and Bird option for a fast and efficient connection with Barcelona.
Categoría: Actividades al aire libre.
Inicio en: Lleida, Spain.
Duración: 3 días.
Precio: 450,00 euros.