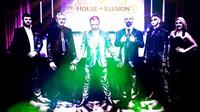 Espectáculo teatral misterioso House of Illusion. 
La House of Illusion presenta "Dreams", un nuevo espectáculo para 2018
Todos tenemos sueños…
Cuando cerramos los ojos, un viaje imposible comienza
Podría estar lleno de momentos maravillosos.
Pero también podría ser nuestra peor pesadilla.
En 2018, la House of Illusion le llevará en un viaje lleno de momentos maravillosos.
Repleto de risas, suspense, asombro y sorpresa.
Podrá disfrutar de todo esto en nuestro teatro elegantemente decorado con velas, con vino, cerveza, sangría y refrescos, y la noche de su vida garantizada.
Sea testigo de lo imposible hecho posible justo en frente de sus ojos… y quién sabe… tal vez la casa de la ilusión de su "sueños" se haga realidad.
Categoría: Espectáculos, conciertos y deportes.
Inicio en: Salou, España.
Duración: 2 horas 30 minutos.
Precio: 34,95 euros.