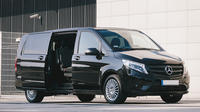 Private Reus Airport – Tarragona City (Round-Trip Transfer). Arrange your trip in advance and start your stay in Tarragona without stress. Use door-to-door round-trip transfer between Reus Airport and your Tarragona hotel with comfort and safety and avoid long taxi lines.
Categoría: Traslados y transporte terrestre.
Inicio en: Tarragona, Spain.
Duración: 30 minutos.
Precio: 26,19 euros.