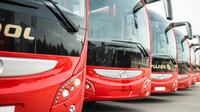 Traslado Shuttle de llegada Reus Aeropuerto a La Pineda. 
Arrivals at Terminal
After collecting your luggage, please exit into the arrivals hall, you will be met by a representative holding a a sign of From2travel, identify yourself by showing your transfer voucher.
In the unlikely event you should have any difficulty in locating your designated driver, please call the number:  +34  93 767 28 36  and follow the instructions
Categoría: Traslados y transporte terrestre.
Inicio en: La Pineda, Spain.
Duración: 2 to 3 hrs.
Precio: 9,50 euros.